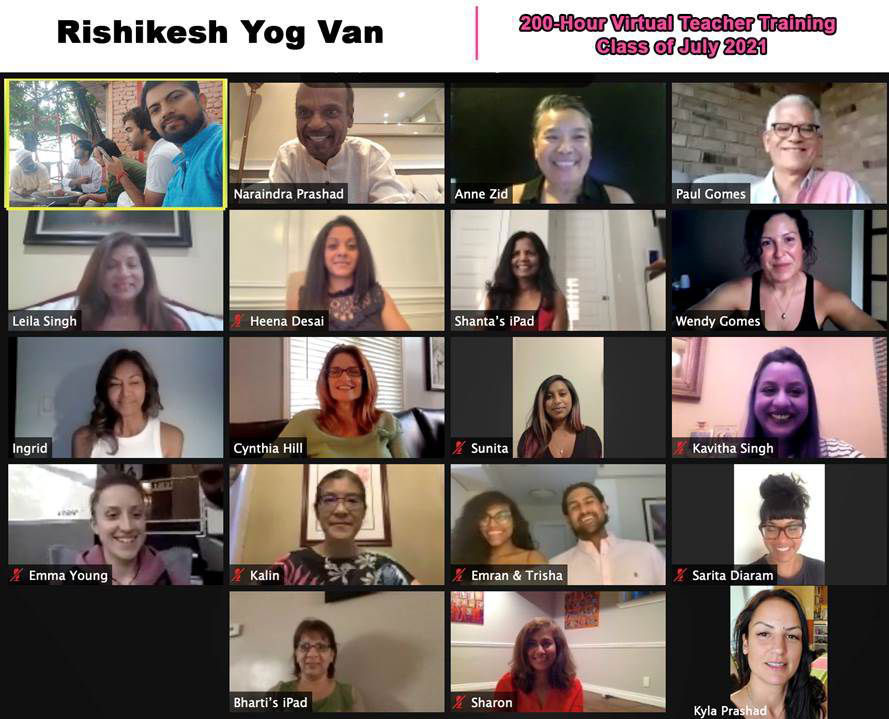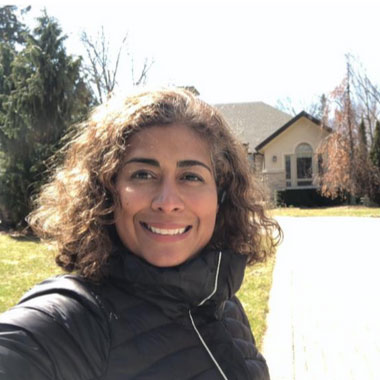 Sharon De Freitas Isherwood
I joined the yoga training as a journey to deepen my personal practice. I enjoyed the ashtanga and hatha yoga practices and found the flows improved my strength, my focus, and my determination to improve. My stamina increased as well. I am happy to say I can do a lot more than when I started the yoga training. Initially, I was sweating, out of breath, and prayed for it to end, but now I can keep going without complaining or losing my breath. I am able to use many muscles in my body—I can call on them when I need to. For example, when in a balancing posture, I am able to go beyond my regular boundaries; my glutes and my abdominal muscles now work together to hold the pose. I am now aware to always elongate my spine and deepen my yogic breathing. My posture is better, I feel confident when I move, my whole outlook is happier, there is a spring in my step and I can honestly say I feel good from the inside out. Our excellent teachers are fun— their free spirit and sense of humour make our practice enjoyable. The study of human anatomy humbled me and gave me a renewed appreciation for the most unbelievable machine we call the human body. The study of Yoga philosophy is the area I struggled the most with. The ground breaking knowledge made me scared and humbled at the same time. I am grateful to all the teachers for imparting their knowledge. This yoga course kept me grounded and happy despite what was going on all around the world. It somehow sheltered and protected me. I was able to go within myself to find peace. Thank you.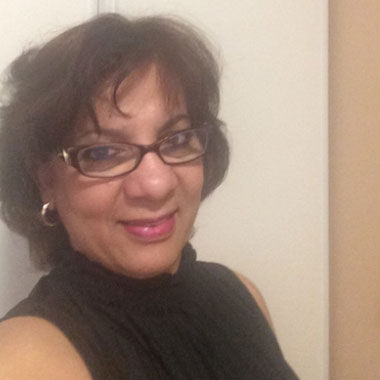 Bharti Chowbey
I signed up for this training course and thought, why is the course this long? You see, I was ignorant of the totality of what yoga is really about. The course exceeded my expectations. I became more aware of how deep the teachings of yoga really is, and how the philosophy of yoga differs from what many people perceive it to be. This course taught me many disciplines and how to develop a greater sense of gratitude, respect, and a positive attitude. Over the years, achievements meant, academics, investing in material things, and physical enhancement; the inner self did not know how to grow. This journey gave me a better sense of who I am, who I want to be, and how I could get there. The teachings of yoga opened my awareness to a point that made me calmer, more disciplined, focused, supportive, and stronger. Although it is a little late in life, it's the beginning of my new journey and the aim is to connect my mind and body. As I delve more into the realm of the teachings of yoga, I have come to realize that the world of yogic science is vast; I have not even touched the tip of the iceberg. The learned instructors of this course brought so much to surface that it saddens me to think that the teachings were always there, but I never looked. Yoga, as we now see, is so much more than physical exercise, it is a discipline that can make a huge difference in people's lives; it is a lifeline with goals beyond what some of us can ever hope to achieve. It is a way of life that Pantanjali rightly saw fit, clean, and healthy for soul, body, and mind; for a better world.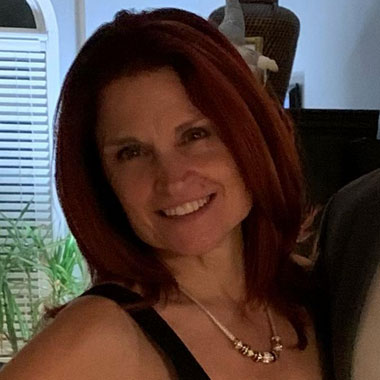 Cynthia Hill
Accomplishments – I cannot say I fully accomplished my goal since I believe that the goal of being a yoga instructor is an ongoing one. I made a commitment to learn and grow and that is what this journey has helped me do; that is what my amazing instructors helped me do and that is what my fellow yogis helped me do. So, thank you to all my teachers! My plan it to expand my goal as a yoga instructor, to help others learn and grow. With the knowledge and support from all of you I am confident that I will be able to continue down that path. Expectations – I expected to get a better understanding of the history, philosophy, and anatomy of yoga. But I got so much more. I now see and feel the connection between all of these areas and the asanas, and pranayama. History and philosophy of yoga guided me towards sacrificing the ego, through knowledge, action, and wisdom, so I can move towards enlightenment (Samadhi). The anatomy of yoga broadened my perspective on how certain yoga poses strengthen specific parts of your body, along with which muscles are engaged during those asanas. I feel connected to my mind, body and soul.
Paul Gomes
When I started the TTC course, I had no real expectations other than to try and learn more about Yoga, and absorb the teachings. I found all aspects of the course to be very informative and gained a lot of knowledge and understanding. The structure of the course was well planned and the presentation by the instructors kept you engaged. I enjoyed the physical practice and the presentation of the Anatomy and Philosophy of Yoga. Completing this course has given me more flexibility, an appreciation of meditation and the calming of the mind and body. This begins my journey with Yoga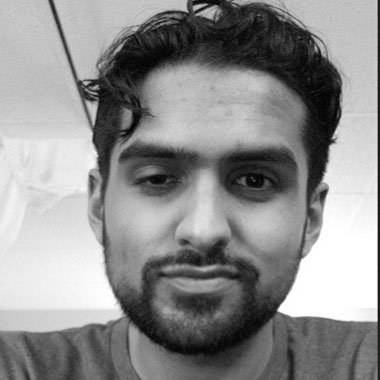 Emran Singh
The last five months have been some of the most insightful months of my life. I've learned about the beauty of Yoga through eyes unclouded by bias, or negative opinion. Pranayama practise was one of the highlights of my study. Focussing attention to specific parts of the body, coupled with breath, showed me the functionality of this practise, and in turn allowed me to understand and feel my body in ways that I have not felt before. This awareness of the body has proven to be very valuable to me, as my daily routine requires said awareness to prevent injury. Philosophy has also been a highlight of my study over the last five months. Being from a different faith, I went into this with a slight skepticism. This was changed quite quickly in the first few months of our study, as what was discussed and learned has been vital in allowing me to become free of the chaos that surrounds me and helped me in the pursuit of mastering the mind. I developed a profound reverence for Siddhant-Ji, he helped show me what is really important in life, from setting goals and focussing my energy, to being more mindful and understanding. All lessons that will stay with me for the rest of my life. Having started my training in the middle of this pandemic I understand the limits that we are forced to subscribe to. However, I feel as though I would have liked to be among my Gurus in person. Live among them, hug them, feel their energy, wake up early in the morning and sit with them. It's a very intimate procedure, and unfortunately due to our current situation it is impossible. It is a goal that I have set for myself, to travel to Rishikesh and visit my teachers, as they have changed my life for the better. I can only hope and pray that they remain a part of my life until the day I pass on. Thank you Naraindra for allowing me this opportunity. I will never forget the people I met in these last few months. I believe we will remain friends for a very long time. I feel as though you are family that I have not met until now, and I pray that we will stay in contact and see each other much, much more. With love and respect, I thank you deeply.
INGRID VEERASAMMY
At the start of my personal yoga journey, I attended Iyengar and Yoga classes, and completing the Inner Engineering courses, I had no idea how much more there was to know and learn until meeting you, Naraindra, attending your classes, and joining and learning this teacher's training course.... there is so much to say. Learning the different components (limbs) of yoga, not just asanas /postures, but how they affect, relate to, and help all of the different systems, was very beneficial, including which postures are not appropriate for specific health challenges. As well, learning how to adjust specific and difficult postures, while working towards gaining that strength and ability to further enhance that posture to the point where it is perfectly aligned, or almost there, while experiencing the benefits. I know I have improved so much in certain postures and continue to see the strength, balance and focus, and continue to work on other challenging ones. In the same way the cues, flows, explanations have been done, there is so much more to Yoga than meets the eye. Being able to explain that the way a posture feels is important, and being conscious and focused on the spiritual, mindful and devotional components. Understanding alignment, smart sequencing–flow of a practice, artful and informative cuing. There may be some who do not appreciate this, but most do. Most individuals focus on asanas rather than philosophy of yoga. There is so much more awareness on what is said, how one says it, the things we do, how we do it, who we are and chose to be. Every moment of our lives and every breath we take, I have learned to make it count. It is a spiritual practice, a way of life, and hope I can use this experience and wisdom to help others along my path, even if it is only to change the way of thinking, being kind to all lives, enhancing spirituality, and the understanding of the physical body, the mind and spirit. Most importantly, having the amazing experience and teachings of Kapil, Sagar, Awdesh, Gokul, and Siddant, has been priceless. This was all encompassing, feeling like I was immersed in the culture and spirituality, even though miles away, a feeling of family in the true sense of the word. I sincerely hope to continue this journey and learnings, including visiting Rishikesh. I am sincerely grateful to you Naraindra, for everything you have and continue to do. The higher level and style of your classes at the gym studio were above other instructors in many ways, which attracted others like me to follow your classes. Blessings, Namaste.
LEILA SINGH
My journey towards becoming a Yoga teacher: I recall Naraindra letting me know about this Yoga course. Better yet, he explained that the course is from a well recognised school lead by reputable teachers who possess particularly good qualifications and credentials. I gave it some thought and, although my plate was running over at the time with an ailing mother who needed much loving care, compounding 40 days of spiritual retreat with on-going related commitments, I decided to take up the challenge. At the beginning, I ran into roadblocks on many occasions and wondered if the time was not right; however, the Universe guided me to handle the challenges. As for the course itself, the overall subject matter was fascinating and remarkably interesting enough that kept me longing for more. I always looked forward to Sunday classes with excitement, especially having already experienced teachings from some of the Yoga teachers via Zoom classes during COVID shutdown. Kapilji is wonderful, caring, and compassionate, with excellent teaching skills. When I started, I never paid much attention to simple stretches and the breathing exercises; however, Kapil made it fun by explaining it so well and reminding us of the benefits of the exercises. I continue to use these exercises when I need to heal my body. I also had the pleasure of being in Sagar's classes before the course started and was happy that he was our Hatha Yoga teacher. You cannot find a more simple, easy-going, humble and respectable individual. Loved his teachings. He breaks down and simplifies every posture. Added to this, Sagar has a very warm personality that makes everyone comfortable. Awdhesh was new and I found his classes a little more challenging. But, with time, I was thankful for his teachings and the Astanga style of Yoga where the postures created more stamina and strength in my body; thus, allowing me to seek out the challenges of his classes. Awdhesh is a very good teacher–taking great pride in teaching the steps—ensuring we had it right and understood the benefits, cautions, and warm up or needed stretching exercises. I am grateful for this experience with him and enjoyed his sense of humor. Gokul's classes were always full of new and exciting information, which greatly triggered my interest—the subject being totally new to me. I learned so much in his classes. Gokul took time and care explaining how medical science deals with the physical body, while the science of yoga deals with every level of the body (including the causal body and subtle body). I extend my deepest appreciation for the way he broke down the causes of the problems; the recommendations that he made with respect to the problems; the yoga solutions; and all the warnings and cautions around doing postures. I have much greater appreciation for Yoga now, realizing the great benefits it has on our mental, emotional, and physical levels. What can I say about Siddantji, who brings alive all the talks and conversations that my Guru has with us on a regularly basis? My Guru uses so many philosophical terminologies that I would have to constantly do research to get a clearer understanding; however, with Siddantji's explanations and better understanding of the Yoga Sutras, I now have much better comfort level with four (Yoga Sutras) Padas. At this time, I consider my knowledge to be just a drop in the bucket within the big scheme of things; however, I am grateful for this knowledge. My humble appreciation for your patience, clear definitions, keen interest in making sure we understood, and your honest feedback. And last ,but not least, it is a blessing to have our original teacher Naraindra as our inspiration. Naraindra's on-going encouragement got me through my many challenges when I was faced with situations that could have hampered my completion of this course. He would go the extra length to make everything work simpler for us, even to the point of spoon feeding us with weekly recaps, along with the reminder not to take the course too seriously, but enjoy the journey. Naraindra, thank you so much for bringing Yoga into my life for the past 10 years, or more; giving your time selflessly; and always compassionate to our situation.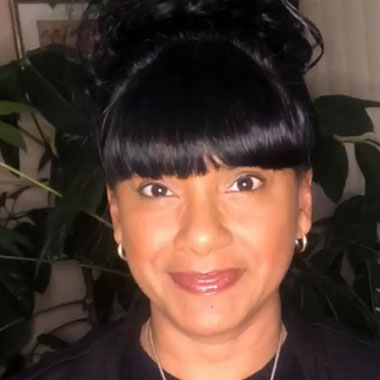 SARITA DIARAM
The last five months have taught me numerous things, but most importantly is the understanding of pranayama and the chakra system. I have developed a greater awareness of the key role the breath plays in activating each of the chakras and the prana within my body and the benefits including calming of the nervous system, detoxification, improving concentration and strengthening of the lungs. which has been so vital during the pandemic. I have also been reminded of the necessity of being disciplined to create goals and habits to live a balanced and healthy life and the importance of being guided by Patanjali's eight limbs of yoga to show up in this life as I want to. I joined the training to have an anchor during the pandemic – it was the perfect choice for the knowledge, energy, passion, joy, and authenticity of all the teachers who perfectly embody the importance of yoga in the modern world. I am grateful for their time and commitment for sharing this important practice.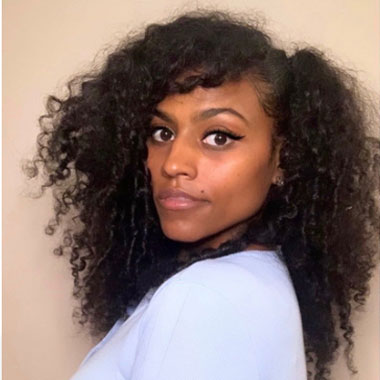 TRISHA DULALL
Thank you Naraindra for setting up this instruction, it is something that I felt called to do for quite a while and you made it completely accessible.
• I have really enjoyed all aspects of the course. • In the last 5 months I gained a new appreciation for yoga nidra. • The social limitations of the pandemic left me feeling isolated, anxious and uncertain about aspects of myself and the near future. • Kapil's instruction was very clear and easy to follow • I did not anticipate how impactful pranayama would be to myself and my family • I feel like Nidra is God's work and an unsung hero in yoga practice from a westerner's perspective • I have been consistently doing astanga for 6 years • I loved the physical aspect of our training • As wellness studios and gyms were closed I started feeling insecure • You may not know that I lost 100 pounds over the last 5 years • It was a choice I made after going to my first yoga class, not because of outward inspiration, but because it was the first time I ever felt that I loved myself • The practice Awdhesh and Sagar offered kept me grounded and inspired to continue • I am naturally an intellectually curious person so I resonated with the philosophical portion • Siddhant was so open to helping us understand and guiding us • There were some days when I had a really hard time and then Siddhant would talk about the exact issue I was facing • He has no clue how much he has changed my life • I was never really able to connect with anatomy in school, but Gokul is so knowledgeable and made the subject matter so relatable • The positive regularly scheduled meeting offered some discipline in a home environment • I appreciate all our Gurus and our sangha • Although I would have loved for this to be in person, the whole experience was more than I could have asked for.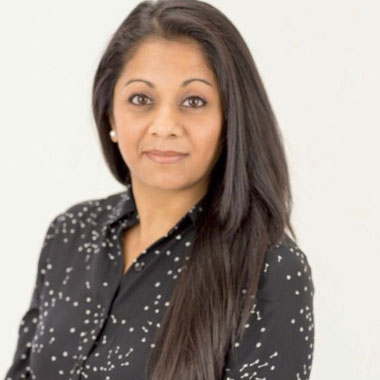 HEENA DESAI
Namaste. As the famous quote goes "The real yoga practice starts the moment you leave the yoga mat," to which I agree, as this is truly what it has done for me. Bringing awareness and self discipline not only to my own body, mind, and spirit, but also extending this positive energy to the people/environment that I interact with, learning to connect to that inner voice, intuition, and breath, as I guide myself through Pranayam, Ashtanga, Hatha, Anatomy and the Philosophical teachings of this ancient practice. It helped me to find balance in life, where there was none, simply by being connected to the patterns of the thought process and actions. Yoga challenges us to become the best version of ourselves. And this is its true testament. It lights a path of guidance and ease as we evolve through life. The last few months have been the most fulfilling as I journeyed through the teachings of Yoga in all its forms. Taught by a team of incredible teachers barring time and distance. I learnt dedication and self discipline from them, as well as the beauty of grace and humbleness. May God and Guru bless all souls and guide us through life with ease and enlightenment. Om Shanti Shanti.